Tires Designed for use on snow and ice.
MICHELIN LATITUDE ALPIN LA2
Winter Confidence
Smooth and Quiet
Fuel Efficient
40,000 Kilometer Warranty
BFGoodrich Winter T/A KSI
Extreme Winter Traction
Excellent Winter Grip
Exceptional Winter Handling
Designed for tough winter conditions, the Observe G3-Ice combines excellent performance with driving comfort. For areas with severe winters, this tire can be studded for added traction on ice and compact snow. 
The Observe GSi-6 is a studless performance winter tire for passenger cars, sports coupes and sedans as well as CUVs and SUVs.  It delivers superb traction, cornering and braking performance in all winter conditions. 
Excellent traction and grip through ice, snow, slush, dry, and wet weather driving conditions. 
W/Max Rubber Compound
Michelins new X-Ice Snow promises improved deep snow traction and a longer tread life!
Excellent snow braking 
Leader in ice braking
High slush performance, and decreased hydroplaning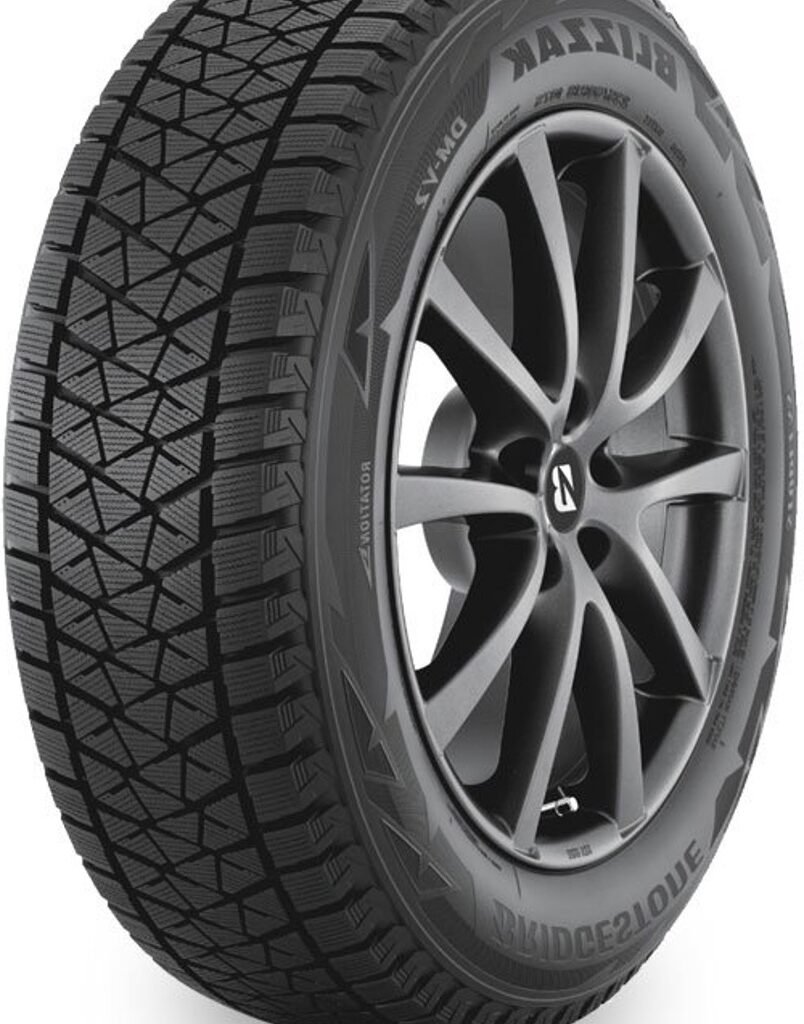 BRIDGESTONE BLIZZAK DM-V2
The Blizzak DM-V2 is Bridgestone's Light Truck/SUV Studless Ice & Snow winter tire developed for the drivers of pickup, crossover and sport utility vehicles looking for enhanced grip in slush, snow and on ice. 
CONTINENTAL EXTREMEWINTERCONTACT
The ExtremeWinterContact is built to conquer the road with confidence- even in the coldest winter weathers.
Improved dry handling
Swift Removal of water
Excellent traction and braking on snow
Reduced braking distances in snow and ice
All-season tires feature tread patterns and rubber compounds that make them suitable for use in wet conditions and a wide range of hot and cold temperatures.
Ultimate treadlife
All-season safety
Eco-friendly
Kilometers warranty: 130,000 kilometers. 
Standard Limited Warranty: 6 year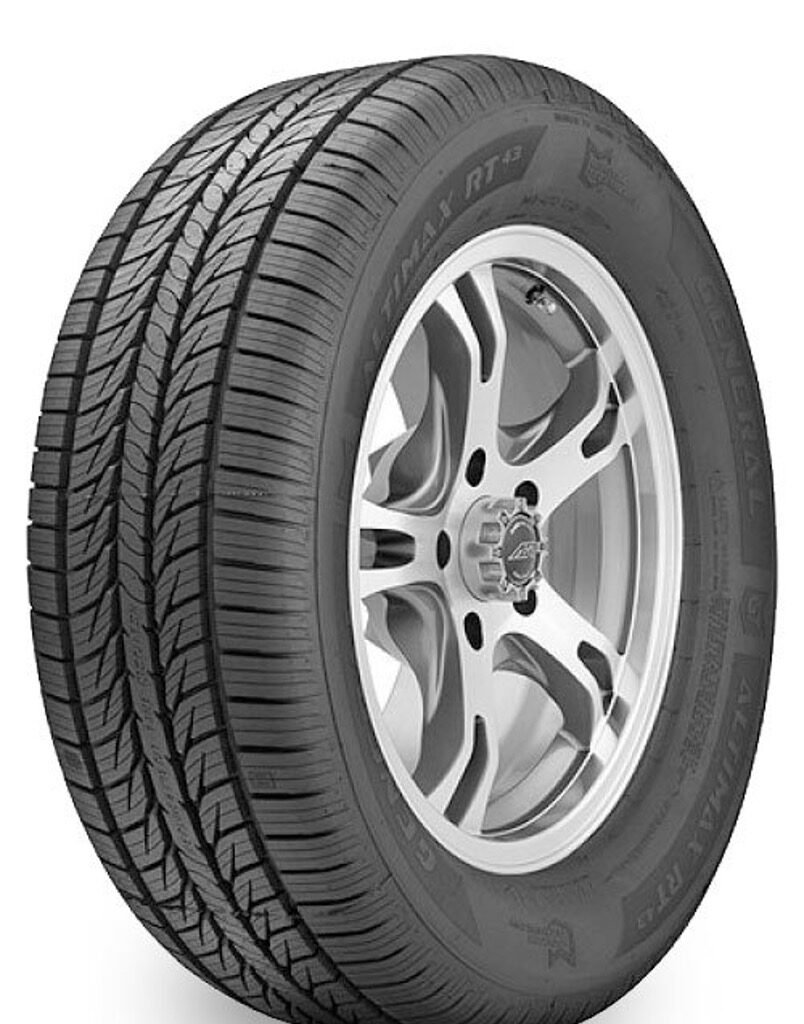 Enhanced construction has given General Tire's all-season touring tire, the AltiMAX™ RT43, a quiet and comfortable ride, year-round traction, even wear, and extended treadlife.
UNIROYAL TIGERPAW TOURING AS
Uniroyal Tiger Paw Touring Tire minimizes contact stress in tire footprint.
Three circumferential channel grooves allow efficient water evacuation to resist hydroplaning.
BFGOODRICH ADVANTAGE T-A SPORT
Defy the weather, control the curves, and enjoy the drive for kilometres and kilometres.
FOUR SEASONS OF TRACTION: 12% better Wet Braking & 15% better snow traction
GOODYEAR ASSURANCE COMFORTRED
Features a system of densely packed tread blocks for a smooth and comfortable ride.
PermaBlack sidewall to maintain a new tire appearance throughout it's life.
130,000 km treadwear rating.
Yokohama is raising the bar on performance with the introduction of its all-new AVID® ENVigor™! ENVigor is the first tire to collectively offer excellent traction and handling, superior comfort, long tread life and remarkable fuel efficiency.
Extensa A/S II designed to provide the comfort and the performance needs for a wide range of cars, minivans compact SUVs and crossover vehicles. A new silica based tread compound improves wet traction, increases the life of the tire and reduces rolling resistance for better fuel economy.
FIRESTONE DESTINATION LE2
Dry Performance & Wear Life: Continuous closed shoulder blocks
Wet Performance: Circumferential grooves, zigzag sipes, sweeping slots
Quiet Ride: Optimized noise sequencing
Mud tires,  are premium off-road tires engineered for extreme and challenging off-road conditions.
The Open Country M/T is legendary for durability, off-road performance, long tread life, and an aggressive tread pattern. It's designed to help trucks work hard on pavement and then work just as hard when roads are muddy, snowy, and rocky — or when there are no roads at all.
BFGOODRICH MUD-TERRAIN T/A KM3
Take on Earth's toughest terrain with advanced Krawl-TEK compound that enhances grip on rock and slick surfaces, with8% better traction. Plus a linear flex zone allows the tire to flex and envelop objects in aired-down driving situations.
A Hardworking, Quality Tire for Light Trucks and SUVs with Maximum Traction for Off-Road Driving.
Provides off-road confidence in all-season conditions plus a quiet ride.
If you want aggressive styling and superior traction don't look any further. Fuel Gripper M/T tires have it covered and are a perfect match for the Fuel wheel line-up.
The Mud Grappler Extreme Terrain provides reliable off-road traction over various terrains, whether it's dirt, rocks or mud. 
The Trail Grappler® MT blends some of the off-road performance of the Mud Grappler® with the on-road comfort of the Terra Grappler® to create a tire that is both aggressive and quiet.
Deeply sculpted center blocks maximize off-road traction while retaining a quieter ride.
Innovative sidewall design maximizes sidewall traction and puncture resistance
FIRSETONE DESTINATION M/T2
The Firestone Destination MT2 tire is engineered to be tough and perform on-road and off-road. Whether your truck or SUV is treading through dry, wet, or snowy conditions, the Destination MT2 tire is designed to go where the trail takes you.
All-terrain tires, or A/T tires, are designed to perform on- and off-road, providing traction and comfort in wet, dry, and lightly snowy conditions. They're a sort of hybrid between highway and mud tires, providing a smooth ride on the road and reliable traction on the rocks!
BFGoodrich All-Terrain T/A KO2
BFGoodrich's toughest All-Terrain tire. Ever. Now backed by a 50,000 mile warranty and 60 day satisfaction guarantee.
Featuring a revolutionary dynamic hybrid tread pattern, the Ridge Grappler® provides a quiet and comfortable ride, while deep aggressive sidewall lugs and tread pattern provide capable off-road performance.
The Open Country A/T III all-terrain tire delivers gripping off-road traction with responsive and predictable on-road handling. With a strong focus on wet performance, durability and treadwear life, Toyo introduces advances in tread design, construction and all-new tread compounding.
The WILDPEAK A/T3W is engineered for adventure, any time and in any weather. The A/T3W combines aggressive off-road ability and rugged terrain driving without compromise on the pavement. 
5-row tread pattern with multiple traction edges
Extra-deep tread pattern
Highly-engineered acoustic tread pattern
Snowflake approved and studable design
 The tread compound enhances wet traction and rolling resistance, while the aggressive tread design significantly improves off-road traction without sacrificing highway performance. All traction, all terrain, all the time!
New silica tread compounds and better lateral water evacuation to help you stop 2.2 meters shorter than the competitor's tire. Plus, with 8% more biting edges this tire delivers better snow traction than the legendary LTX M/S tire.
GOODYEAR WRANGLER DURATRAC
A hard working, versatile tire offering on and off – road traction.
Features TractiveGroove technology which offers enhanced traction in deep mud and snow.
Performance tires are designed to give owners of sports cars and other vehicles increased handling response and traction. Performance tires feature unique tread patterns, construction features, and rubber compounds to provide enhanced precision, responsiveness, and traction.
The NT555 G2 is the next generation ultra high performance summer tire designed with the performance driver in mind. With increased* traction, handling and wet-braking capabilities, the NT555 G2 will get you off the line quickly, provide stability in the straights and confidence in the corners.
Michelin continuously pushs safety, durability and fuel efficiency, and even more performances, all at the same time and with no trade-offs. That's what we mean by MICHELIN® Total Performance™, which has and will always be our difference on every tire.
CONTINENTAL EXTREMECONTACT DWS06 PLUS
Continental's ExtremeContact DWS06 Plus is an ultra-high performance all-season tire designed for performance sedans, sports cars and SUVs.
BFGOODRICH G-FORCE SPORT COMP-2
Accelerate faster, corner harder & brake shorter for next-level control and next-level fun on the street.
ACCELERATE FASTER. Best dry traction vs. the competition on the track for 100% more fun on the street.
The ADVAN Sport is race bred technology in street-legal tires.
The ADVAN Sport offers performance at a very high level, giving not only excellent handling and steering response, but also exceptional wet pavement traction, a comfortable ride, and low noise characteristics. 
Today's sports cars, compacts and performance sedans are extremely versatile. The tire they ride on has to be the same. The new AZENIS RT-615 offers a world spec construction, featuring an improved motorsports-grade cap compound that effectively maintains grip as tire temperatures increase
The Toyo Proxes Sport is an ultra-high performance summer tire. Combining enhanced dry and wet road traction … along with great handling and durability. An ideal tire for drivers who demand the most from their tires.
BRIDGESTONE POTENZA RE050A
Original equipment on many high-performance vehicles, the Potenza RE050 is built for the pleasure of driving. This tire comes loaded with race-proven technology: UNI-T for outstanding wet and dry traction, a tread pattern that promotes rapid water evacuation, variable dimensions in the tread blocks, and the smoother shape to reduce road noise.